At Rapid, we understand that it's important for our customers to have custom invoices that include business information such as the company name and address. That's why we offer this option to all of our customers.
If you would like to have your company name and address added to your Rapid account, simply access your Billing & Payment Settings > Edit Invoice Details & Submit.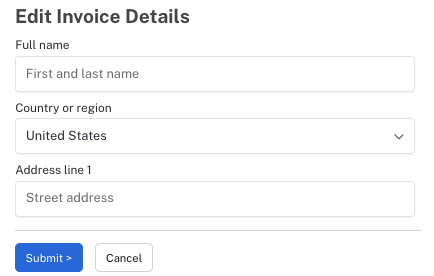 Once your name and address have been added, all future invoices will be generated with this information automatically.
To download your custom invoices, log in to your Rapid account and navigate to Billing > Transaction History where all Personal Account invoices can be found.
Alternatively, if your API subscriptions were made under an Organization Account your custom invoices can be found in the Organization Dashboard > Transactions > Subscribed APIs. From there, you will be able to view and download all of your invoices.
Please note that your custom invoices will only be available to download after your company name and address have been added to your account.